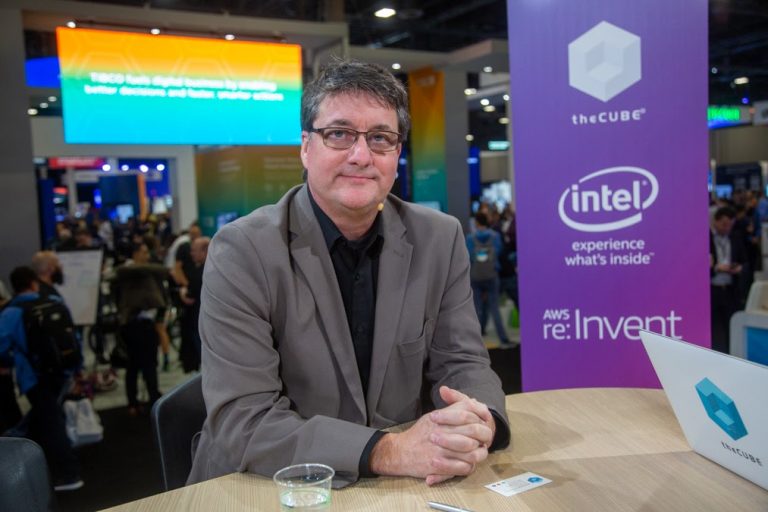 Our cars are literally becoming mobile devices running on software platforms. Safety is critical when it comes to automobiles, because written safety standards and our lives depend on it, necessitating mission-critical embedded systems. Enter BlackBerry QNX, designed not to fail, innovating the way cars automate both safety and entertainment features.
The company is covering all the bases with fail-safe connectivity and software that meets the needs of users, according to Grant Courville (pictured), vice president of products and strategy at BlackBerry Ltd.
"Where things have to be reliable, safe, secure, work all the time, that's where you'll find our software — factory floors, we're in laser-eye surgery machines, we're in patient monitoring devices, MRI machines. And, so essentially, those areas which are safety critical, where safety, security, reliability are tops," said Courville while discussing who's trusting BlackBerry QNX software to make safety a priority.
Courville spoke with Lisa Martin (@LisaMartinTV) and John Furrier (@furrier), co-hosts of theCUBE, SiliconANGLE Media's mobile livestreaming studio, during the recent AWS re:Invent conference in Las Vegas. (* Disclosure below.)
[Editor's note: The following answers have been condensed for clarity.]
Martin: So, BlackBerry QNX; what's it all about?
Courville: Well, we do software. We do embedded software for mission-critical systems. At AWS re:Invent, what we're showing is software in a really cool car, a Karma. We're connecting it to the AWS IoT back-end services and showing some really cool use cases — some of which are near-term; some of which are a bit longer term.
Furrier: Take a quick minute to describe QNX's background.
Courville: We were founded in 1980, and then developing software for mission-critical devices in medical, industrial. And then we started developing software for automotive in 1998. So we've been in automotive for about 20 years, developing originally in infotainment and then digital instrument clusters, telematic systems, gateways, safety systems, acoustic systems — pretty much becoming the software platform in the car.
In the car, the software has to be reliable, safe, secure, so we're trusted to deliver that in automotive. We were acquired by BlackBerry in 2010, and we're bringing the best of BlackBerry into automotive and all of our other markets.
Furrier: What is the relationship you guys have with Amazon, and what are you doing at re:Invent this year? Take a minute to explain the relationship between QNX and Amazon Web Services. 
Courville: We're in the Connected Home exhibit; in fact, we're in the "garage" where we've got a vehicle, a beautiful Karma Revero GT, and I was told it's the first time there's actually a car at re:Invent. So, that was pretty cool.
What we've done is we've taken the Karma vehicle and we've actually connected it to AWS IoT. So, if you think about what we do, we do software in the car. So, one of the things we're doing is battery monitoring and prediction in terms of the life of the battery. The other thing we're doing is personalized cockpit, which is pretty exciting. The last thing we're doing is kind of a business-to-business demonstration, where it's data orchestration, so if you think about the vehicle, there's a lot of sensors on the vehicle, a lot of information available on the vehicle.
And what we're doing with AWS is pulling the information from the vehicle, putting it in the cloud. And then we've got a few examples that we're using. One of them is an application for an auto detailing company.
Furrier: How are cars thinking about the connectivity?
Courville: We work very closely with the modem vendors, for instance. And today in cars you'll see Bluetooth; you'll see Wi-Fi; you'll see 4G. Obviously, there's the emergence of 5G; vehicle-to-vehicle communications; there's something called [Dedicated Short Range Communications], essentially Wi-Fi. 5G's going to come along, so now you're going to be able to have throughput and also what's called low latency. So quick turnaround on your messages and the information being exchanged. That, too, is evolving.
From a QNX software perspective, we'll make use of whatever modem is there. But to your point, we also have to deal with the cases where I've lost connectivity. I still need that vehicle to operate safely. And especially if you consider that systems might be connected or we don't want to make it such that they're dependent on that connectivity.
["source=siliconangle"]