Theresa May is preparing for another election with the same old education policies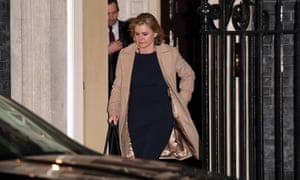 The new education secretary, Damian Hinds, is an unknown quantity for most teachers and parents, but we do know he is a grammar-educated former strategy consultant who would like to see an "elite" selective school in every town and reportedly said that only "mums" can really make a difference to children's learning in the early years.The controversial removal of the comprehensive-educated Justine Greening and her replacement by Hinds makes sense only if you believe, as I do, that the prime minister is preparing for another election based on the same key commitments as last time. Yes, even though they didn't go down hugely well with the electorate.
It was impossible for Greening to champion grammar schools. She was visibly lukewarm about Theresa May's dream, presumably because she had read the evidence. She also failed to implement a manifesto commitment to lift limits on the number of places free schools can reserve for children from religious families. For as long as the rule is in place, the Catholic church refuses to open any new schools, even though every other major religious group is happy to go ahead.
Hinds attended a grammar school in Cheshire, a religious one to boot. He has advocated more Catholic schools, and with power at his fingertips he can lift the admissions cap tomorrow – no new laws needed. Why anyone would think it good value to build faith-only places in an increasingly secular world is beyond me, but he has the power.
What really killed Greening, however, was tuition fees. Last October, in response to Corbyn's thumping popularity among university students, May announced a freeze on fees and promised a review of their future. Greening never commissioned the review as she worried the cash would come at the expense of schools, early years and technical education. This proved a sticking point and is said by insiders to be the main reason May let her go.
Hinds may be an easier sell for the Tory heartlands. He is said by colleagues to be a great talker, able to witter at length without saying anything too offensive, or too useful, which is perfect for a party still refusing to accept that school cutbacks are hitting service quality, or that teacher recruitment is a mess.
A video from 2011 shows Hinds saying that "throwing money at problems is hardly ever the solution" when asked about school funding, before he implores the government to focus only on "core subjects". That rhetoric goes down well until the public realise it's a subtext for "your kids can learn maths, English, science and a bit of history; the rest is a bonus if we're feeling generous." This sort of politicking makes "ordinary working people" want to throw things at their TV screens and yet May, somehow, still thinks it will win out.
Greening never promised endless cash to schools and often said it wouldn't help. But she did so without stooping to condescending dismissals, and fought to get money into struggling areas. If Hinds has any sense, he'll take a leaf from her book. Otherwise the only diversity in this shake-up will be that it has removed a secretary of state for being too compassionate and too comprehensively educated. May's judgment that this will win in an election could prove as shortsighted as it did last year.
source:-theguardian