Schools pulled into row over helping transgender children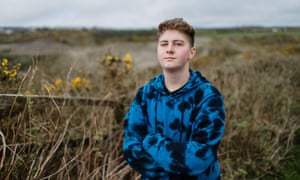 Miles Everitt, 18, thinks himself lucky to have been well supported by his school when he came out as transgender. Growing up female, he'd always preferred to wear boys' clothes and play the male character in online games; at secondary school, after he cut his hair short, many teachers assumed he was a boy. It was seeing a trans character on Hollyoaks and then reading blogs by young trans people on Tumblr that made him realise he could be transgender.
Three years ago he came out in a video he posted on Facebook. His mother's response was to go into his school at Wadebridge, Cornwall, to talk to Miles's "awesome" headteacher, Tina Yardley: "She went in, and said, 'My child wants to be called Miles,' and she [Yardley] was like, 'That's fine. We'll make sure all teachers call him that from now on'."
Miles says: "It meant my teachers were calling me the correct name and pronouns, and it means a lot to all trans people to be accepted and addressed in the right way."
As well as respecting Miles's new name and pronoun, Wadebridge school agreed he could use an accessible changing room for PE and the male staff toilets. Miles, who is now at college and plans to study paramedic science at university, is taking testosterone to complete his transition and is planning gender reassignment surgery.
Schools are supporting increasing numbers of transgender students, using a variety of guidance from the teaching unions and charities such as Mermaids (which has a grant of £35,000 from the Department for Education to deliver training to 35 schools).
This rise is reflected in referrals to the children's Gender Identity Development Service (Gids), run by the Tavistock and Portman NHS trust, which increased by 1,978% – from 97 in 2009 to 2,016 in 2016-17. Of those children, 70% are biologically female.
Bernadette Wren, a clinical psychologist at Gids, says many young people seen by the service have been bullied or self-harm, and a number are on the autistic spectrum.
Hessle Academy in Yorkshire, which has three students transitioning from female to male, has used Mesmac, a local charity, to train staff on transgender issues, while Barnardo's has delivered assemblies and workshops to year 8 and 10 students. The school has also set up an email address that students can contact anonymously about their gender identity.
Sarah Young, the school's head, sees the increase in numbers identifying as transgender as largely positive: "These young people are being given the opportunity and support to come and talk to somebody earlier than they might have done in a previous time."