Why 2016 could finally be the year upgradable phones become reality
LG's new G5 smartphone comes with an innovative feature: the ability to plug in and remove hardware modules that add extra functionality to the phone.

It represents a first and small step toward something that's been long proposed but never realized: modular smartphones in which users add and remove components to suit their needs.

At launch, the G5 will have a couple of modules. One adds hardware camera buttons for zoom, shutter and video recording and the second module is a high-quality audio processor for playing music.

To change modules, press a button on the lower side of the phone and pull out the bottom part of the handset. It slides out with the battery, which can be detached and snapped back into another module before it's reinserted.

The system being used by LG is a start, but it's still a far leap from Google's "Project Ara." That prototype phone is based around an exoskeleton with a screen into which owners can snap a processor, memory, battery, camera module and whatever else they want.

The idea is simple: If you're not satisfied with your camera, upgrade it without replacing the entire phone; or break the screen and just buy a new shell, reusing all the other components.

Desktop PCs have been upgradable like this for years and the idea has been around forsmartphones since at least 2009, so what's the holdup?

"In the past, modular has never worked," said Carolina Milanesi, chief of research at Kantar Worldpanel. "Yet we are moving to a world where you will definitely have different components through connected accessories that will give you a modular experience to some extent."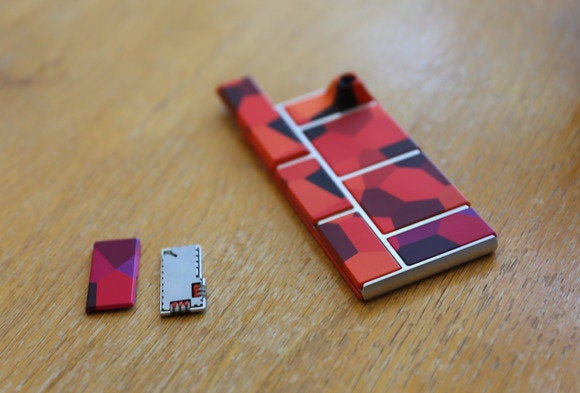 It's appealing for consumers because it's perceived to be a better and cheaper way to upgrade a phone and better for the environment.
But for engineers, it's a challenge.
All those pieces have to be compatible with each other; they have to snap in and remain firmly attached, they have to deal with the inevitable dust and dirt that will work its way around the modules and the entire phone still has to be thin despite all the extra plastic casing.
"As tech innovation slows down and consumers see the phone as more of a commodity, being able to replace certain parts or customize then might be an interesting way to go," said Milanesi.
That's what Google is working toward with Ara, but trials of the phone have been delayed. They were meant to begin in Puerto Rico last year, but Google scrapped them as part of a "recalculation."
At the time, it said they would begin in 2016, so more modular phones might be making an appearance this year.
For LG, the modules might make all the difference in a very competitive market.
"No other current smartphone maker has anything similar," said Ian Fogg, head of mobile analysis at IHS Technology. "But to maximize this opportunity, LG is smart to embrace third party support for its modular hardware with LG Playground. LG should mimic Apple's hardware licensing program –  Apple's 'Made for iPhone' approach – to generate additional revenues, and also benefit from those third parties own marketing spend."
["source -pcworld"]