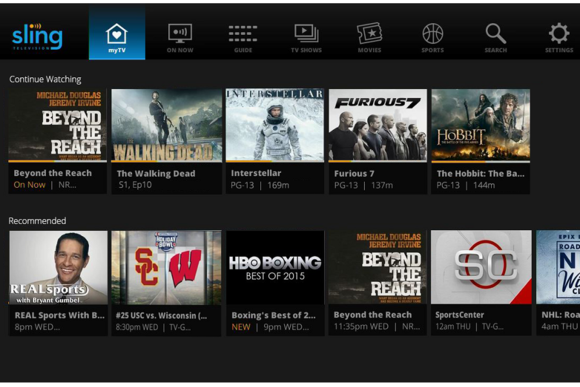 Sling TV is pushing ahead with its first broadcast channel package, though ABC is the only English-language network on board, and only in certain markets.

The "Broadcast Extra" package costs $5 per month, and includes ABC, Univision, and UniMas. As with all other Sling TV add-ons, subscribers must first sign up for the $20 per month base package, which includes over 20 streaming channels such as ESPN, CNN, TNT, and TBS.

A couple other restrictions: For now, Broadcast Extra is only available in New York, Los Angeles, Chicago, Philadelphia, San Francisco, Houston, Raleigh-Durham, and Fresno-Visalia. (A spokeswoman for Dish Network, which owns Sling TV, said these cities represent more than half of the top 10 U.S. markets, and serve nearly a quarter of the population.) And according to Cord Cutters News, which first reported the new package, subscribers can only sign up for it by phone.

Still, the move into broadcast channels is big for Sling, which has been talking about adding the major networks since last spring. Last October, Sling TV CEO Roger Lynchsuggested that negotiations were slow going, and called out ABC in particular as being unprepared to sign on. "To some extent, [networks aren't ready]," Lynch said at an industry conference.

The problem with adding these channels is twofold. Some are resistant to being relegated to an optional package, rather than a core channel bundle. And even when networks want to participate, their local affiliate stations may decide not to provide a local stream. That's why CBS only offers its All Access streaming service in about 75 percent of the United States, and it may explain why Sling TV's Broadcast Extra package only includes a handful of participating cities.

Why this matters: Sling TV is well aware that some subscribers will continue to use antennas to pick up broadcast channels for free—in fact, some retailers offer discounts on antennas with three months of prepaid Sling service—so it's good news that the new channels are optional. They'll mainly come in handy for users who can't get antenna reception at home, or are willing to pay for the convenience of having every channel in a single app. Along with the recent arrival of Cinemax and a much-needed redesign, the broadcast package should help even more people decide to cut the cable TV cord.
Cloud & Services
Cord Cutting