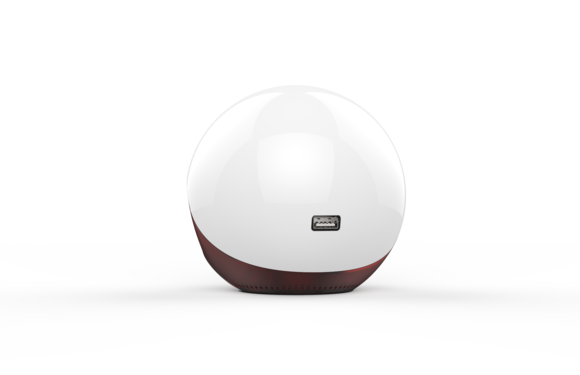 is available in two configurations. Both feature a quad-core AMLogic S805 ARM processor. The $79 base unit has 1GB of RAM, a 24GB eMMC drive, and gigabit ethernet. A stepped-up $100 unit has 2GB of RAM, 32GB of storage, and more importantly, includes 802.11n and Bluetooth 4.0.
For ports, you get three USB 2.0, a smartphone-style audio jack, HDMI, and composite video.
I expected there to be a VGA or D-SUB connector to use with older CRT displays but the Endless Mini is meant to be hooked up to a television primarily not a computer monitor. The OS isn't Windows or Android. It's a customized version of GNU Linux with the GNOME desktop environment called the Endless OS. Linux is usually the OS of tech heads, but Endless makes its fork as simple as possible.
Setting it up
Fire up the Endless Mini and you are walked through the process of compensating for the overscan on most televisions. You're also prompted to set a password. In one of the many little signs that this PC is intended for a less tech-savvy audience, your password is visible by default, so you can verify what's been typed.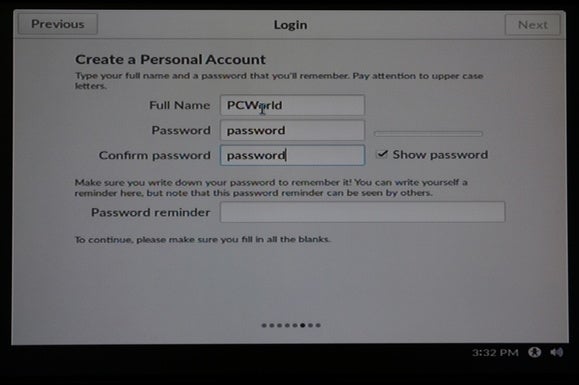 I tested the Endless Mini on a flat panel television using the composite out—which, being composite video, was predictably ugly. In a clever trick, if composite video is used, the Endless Mini scales up the font to compensate for low-res output. Both PAL and NTSC are supported, with a toggle switch on the back.
No Internet, no problem
I first tried the Endless Mini with zero Internet connectivity to see how useful it would be, and it's really not bad. The device comes preloaded with content that Endless thinks will appeal to people in emerging markets. For instance, it comes with a veritable encyclopedia courtesy of Wikipedia (we've come a long way since those old-fashioned CD-ROMs of the 1980s).
No, not all of Wikipedia can fit onto a mere 32GB, but by minimizing the graphics and focusing on the more popular content, Endless estimates that about 80 percent of Wikipedia's content is there.
Despite Wikipedia's critics, there's no denying the value of this information. Endless points to the fact that in some developing nations, printed encyclopedias (remember those?) can sell for hundreds of dollars. Parents have resorted to installment plans for those books to give their kids an edge. Getting access to Wikipedia without Internet access is a boon.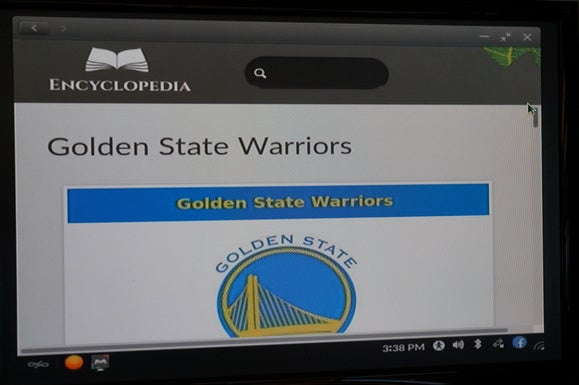 Besides Wikipedia, Endless has crammed in other valuable educational tools, such as popular Khan Academy videos. On the 32GB version, I counted just under 1,100 videos covering everything from science to mathematics.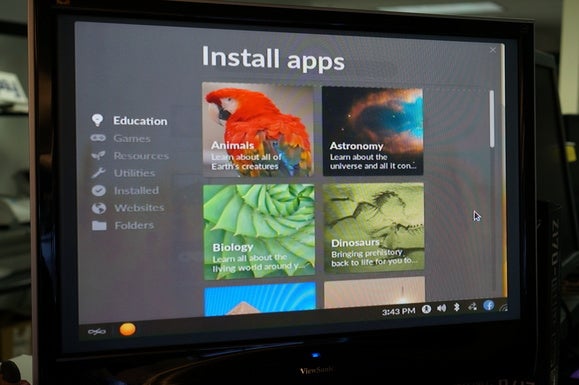 Other preloaded applications focus on medicine, budget management, basic gaming, and resume creation. There's also an office suite. And yes, there's even a small celebrity database, so a user can learn more about Beyonce.
It's like 1982 all over again
In some ways, the Endless Mini reminds me of the early days of computing. While most early consumer PCs were basic boxes with nothing but the OS on a ROM chip, some computer makers tried to make complete packages with a rudimentary word processor and basic functionality included so you didn't have to buy anything else.
The Endless Mini is way more sophisticated though. If a family in a developing nation buys one and plugs it in without Internet, they'll get a far better computing experience than I did in 1982.
The thing is, Endless doesn't expect its users to never get on the Internet. With a WiFi or LAN connection, you can download more apps or browse the web using the included Chromium browser.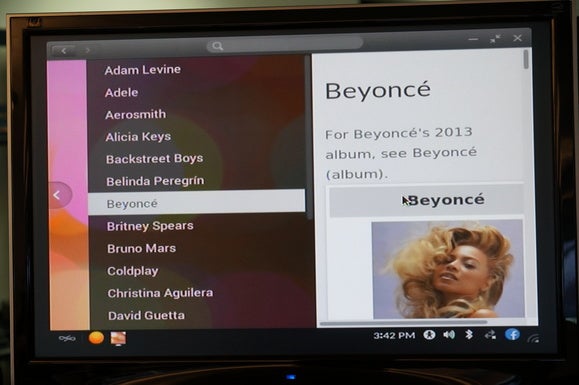 Endless says its made allowances for limited Internet access. We might complain about 250GB data caps here but many developing nations have far more depressing data caps or speeds.
Although I could not test it, Endless says the OS is designed to only download what it needs, and duplicate files, even if used elsewhere, aren't downloaded. Still, if you're on a severely metered connection, it would be nice to see more granularity in how updates are carried out.
Endless says it plans to integrate features that let a person set a maximum cap on downloads. It also plans to allow updating the OS, apps, or encyclopedia using a USB key.
That way if a person doesn't have Internet at home, he or she could still download a file at an Internet cafe or friend's house and sneakernet it home. There's printer support and the Libre office suite supports saving to USB key, too.
Performance
If you're looking for benchmarks comparing the Endless with other PCs, forget it. That's the wrong way to think here. The experience is maybe a step or two behind what you'd get from a Bay Trail-based Atom machine.
There was definite lag on booting and occasionally with opening applications, but I don't think it'll be a deal breaker for the crowd it's aimed at.