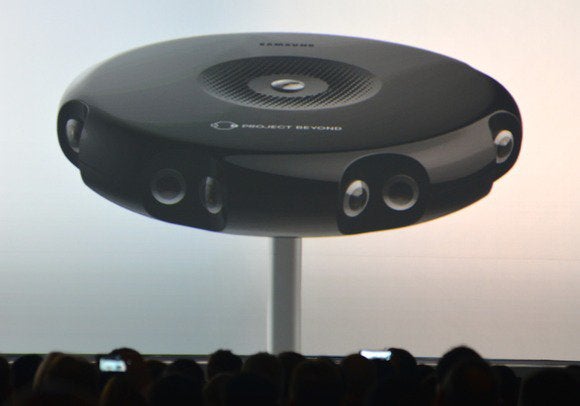 Samsung may be about to offer its own 360-degree camera, which could help bolster the content for its growing VR business.
According to a report from SamMobile, the Gear 360 is a compact spherical camera that can capture 360-degree images through multiple pairs of fisheye lenses. It would then be able to stream these back to a connected phone, though it's unclear if this will be tied specifically to the GS7 or will work with other Galaxy flagships.
The new gear is said to have the usual settings you'd expect from an everyday camera, like HDR, white balance settings, exposure control, and some type of "live" view option. There are also various VR and panoramic views. Such a device opens up considerable opportunity for more people to create VR content and to offer immersive experiences to photography clients.
SamMobile didn't offer any hint as to what the pricing may be or exactly how soon it would go on sale to the public.
The spherical camera is likely the polished product to come from Samsung's Project Beyond, which the company showed off at its developer conference late in 2014.
The report indicates we could see a full announcement and possible retail availability during Samsung's Unpacked event at Mobile World Congress February 21.
Greenbot will be there live to see everything Samsung wants to show off.
Why this matters: This is a logical piece of hardware for Samsung to develop since the company makes one of the better virtual reality headsets with the Samsung Gear VR. This completes the circle for anyone who professionally or as a hobby wants to create virtual reality experiences.
["source -pcworld"]