The Brompton S6L folding bike solves a problem I thought I'd left behind me. That is, when I traded my hour-long suburban car commute for an urban one, I thought my life would get better.
Little did I know it would be just as bad. Instead of sitting in my air conditioned car listening to music on clogged freeways, I'm now stuck behind crowds of people—I call them Walkers—plodding along to the subway station while checking Facebook.
On bicycle, I can cut nearly 30 minutes from my commute—but getting a bike on a crowded San Francisco train is a challenge.
Enter the Brompton bicycle, perhaps the most compact folding bike around. Still hand-welded and built in England, it's said buying a Brompton is more like joining a cult. After riding a Brompton for a few weeks, I think I can see why.
What I use now
This isn't my first folding bicycle. My daily commuter is a Dahon Mariner D7. Fairly compact, it's entry-level folder ($400 to $600 price range), with 20-inch wheels and a weight of 26 pounds (not counting the extra lights and tools on mine). But the issue is the size. In the Bay Area, you can legally board any subway train with a regular bicycle. But even folded, my Dahon can feel huge on a packed train.
That's where the Brompton really shines. When unfolded, it's not as much of a compromise as you'd think, given its 16-inch rims.
Here's the Brompton in front of my Dahon.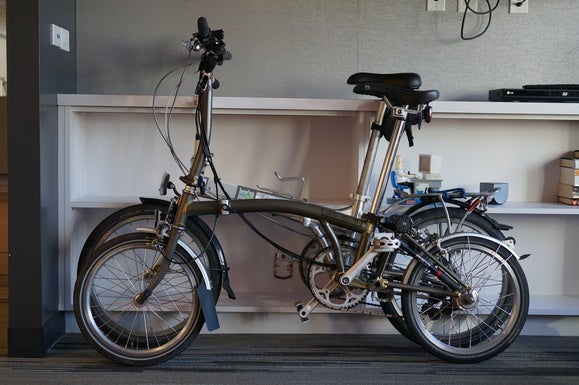 Here are both bikes in compact form. Folded up, the Brompton is simply tiny! On a train packed with ready-to-blow commuters, that's enough to decide whether you're getting on or waiting for the next one.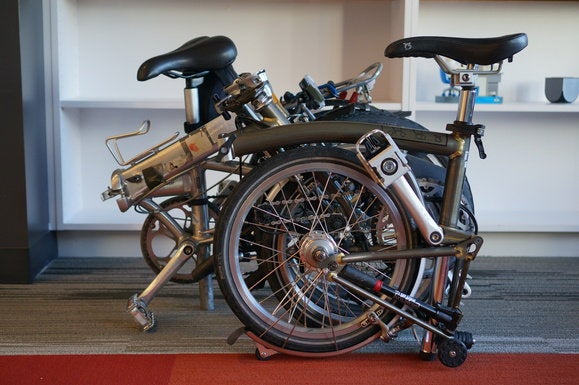 Here it is next to the universal nerd yard stick: an Xbox 360. Its compact size means the Brompton can nudge in just about anywhere.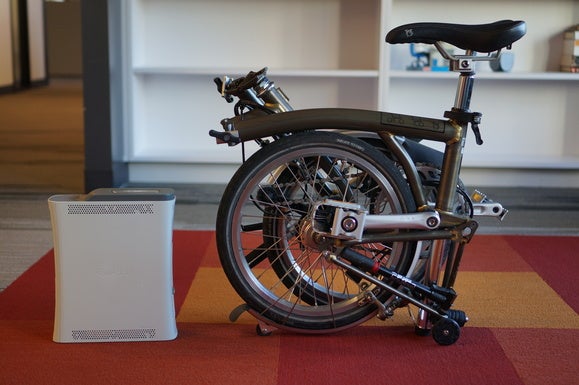 Very clever design
Despite its small size, there are plenty of amenities. The one I reviewed had six forward-moving gears using a rather unique system. A Stormey Archer hub has three internal gears controlled by a thumb shifter on the right side of the handlebar. When you need more speed or hill-climbing power, you can use a thumb shifter on the left side to control a derailleur that shifts between two cogs attached to the hub.
The act of shifting is downright clunky, nothing like a modern SRAM or Shimano setup. Any rider used to a "normal" bicycle's gear ratios will also be put off by the big gear ratios on the Brompton. But once you get used to it, it's not bad. I thought of it mostly as a three-speed with the option to shift down for hill climbing. Some stores will even tailor the gear ratios to your commute.
Brompton's setup is fairly proprietary but from speaking with various shops that work on Bromptons and the loyal following they have, getting parts, repairs, and mods shouldn't be an issue.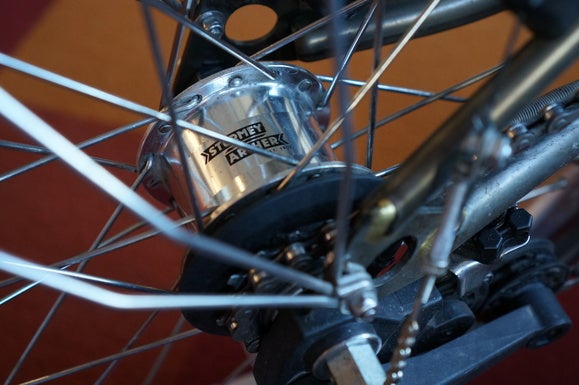 It's the little things
What I really appreciated about the Brompton were the little things. The left shifter, for example, has an integrated bell. Smaller wheels means a rougher ride, so a small elastomer bumper in the frame helps smooth it out. Like the gearing, the bumper can be tuned to a stiffer or softer ride.
The Brompton features a set of wheels on the frame and fender that let you easily roll it when folded too. Cleverly, the same wheels also function as a kick-stand when the rear tire is folded in.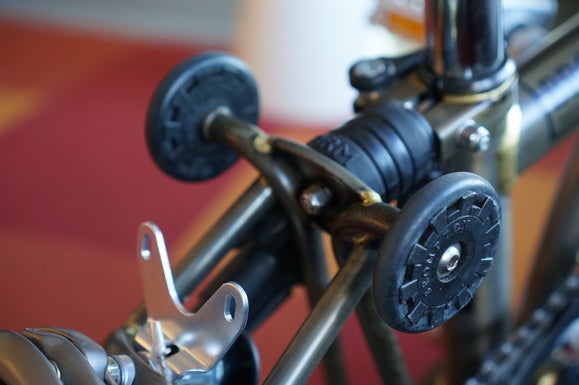 I've heard the Brompton described as a slow-folding bicycle, but my experience was the opposite. What is slower is the ride. With its 16-inch rims, the Brompton requires more revolutions to get anywhere than my 20-inch Dahon does. I also found myself lower to the ground, which felt weird at first. While I've seen bicycles with even smaller rims, I think the 16-inch rim is the practical limit for my riding style and distance.
For city commuting of just a few miles, the Brompton is just right. It may feel a little cramped. On occasion you may feel the need for taller or shorter gears. But when it's folded, it's almost like you don't even have a bicycle with you. Don't think you can't ride long distances, either. The Internet is replete with tales of the bicycles' being used for cross-country tours.
All this wonderful English forethought won't come cheap. The S6L I tested, in raw lacquer paint (to show off the welds), will set you back at least $1,600. When you consider it's a hand-built bicycle from England, it doesn't seem that exorbitant a price, but that's still a lot of money for most people.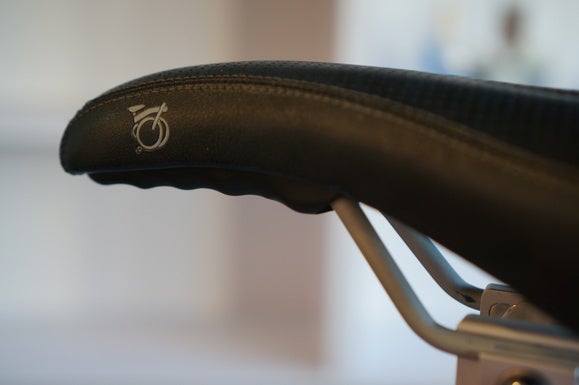 After riding the Brompton for a few weeks, I'd have to say I'm impressed. It took a day or two to get over the speed and cramped ride, but I immediately took to its compact size. There have been days when I dreaded getting onto a train with my Dahon. With the Brompton, I never felt that way, because it just never gets in the way. I now understand the cult following Bromptons have, and maybe one day, I'll join it myself.