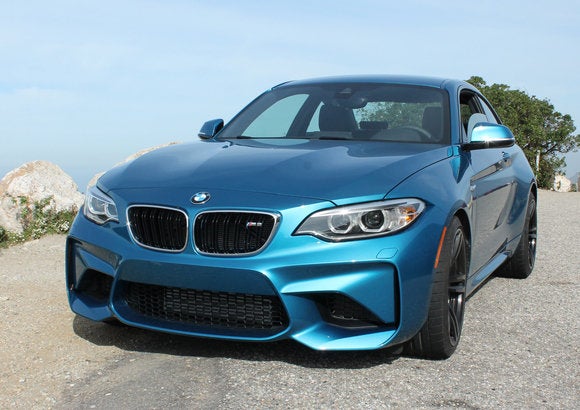 If you follow performance cars at all, you probably think you've got the BMW M2 all figured out.

You know the M2 is the spiritual successor to the 1 Series M Coupe, a car so universally lauded by enthusiasts—and so impossible to find in the used market—it's almost an urban legend. In fact, you've probably never even seen the 1 Series M. Only 740 were sold in the US. But your car-crush is real, and in the new M2 you see a second chance to drive something very, very special.

You also know the new M2 is the baby of BMW's 2016 M car lineup. You look at the M3 sedan and M4 coupe, and then ponder the slightly shorter wheelbase and careful excision of fatty tissue promised by the M2. Your mind drifts to hairpin curves. You consider whether "flickable" and "tossability" are even words. You hope so, because you think you'll need them soon.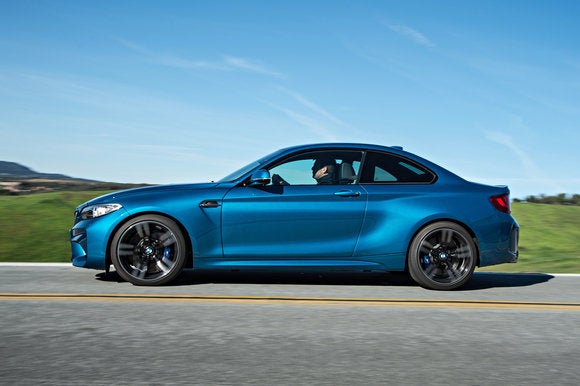 Yeah, you think you've got the M2 all figured out. And this time you're right. The 2016BMW M2 is a fun, scruffy driver's car that feels more alive than any other M car I've driven. Grab it by the nape of its neck and shake it. It'll just think you're having fun.
The M2 starts at $52,695. That's $14,000 cheaper than the M4 coupe—an amazing price for what hardcore enthusiasts might consider the true halo car of the M car line up.
BMW M2: Driverless? Try driver-full
Last week, the federal government said the computers in driverless cars could be considered the regulatory equivalent of people. It was enough to send me spinning into ananti-driverless rant. But just a few days later, I found myself on the track at Laguna Seca, following BMW factory racer Bill Auberlen in the new M2—and it was one of the most driver-full experiences I've ever had.
Indeed, our driverless future might be coming, but cars like the M2 serves as a blockade against the creeping spread of soulless technology. With 370 horsepower, 343 pound-feet of torque, and a 0-60 time of 4.3 seconds (when propelled by BMW's seven-speed sequential transmission), this is not a car that's designed to wait patiently for algorithm guidance at stoplights.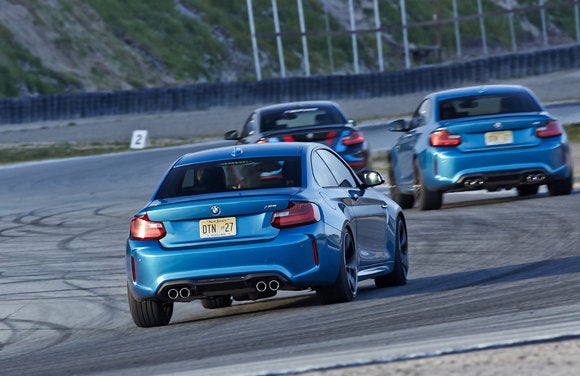 Nor is the M2 engineered to stay firmly planted on the ground on every foot of pavement. Set the M2 to its Sport+ setting, and BMW's M Dynamic Mode (MDM) allows just enough tire slip for those times when you think the world would be a better place with computer-controlled rear-end drifts.
This is today's engineering from Munich. It's based on a philosophy that says driving is both self-affirming and fun. Meanwhile, that self-driving Google car from Mountain View contemplates the meaning of LIDAR signals. Which would you rather have?
A throaty, crackling M2 soundtrack
I'll get into the M2's track manners shortly, but let's attack this experience in chronological order. My day started with a gorgeous early morning drive from Laguna Seca to Big Sur, carving through 2nd and 3rd gear corners when tourist traffic wasn't clogging my path.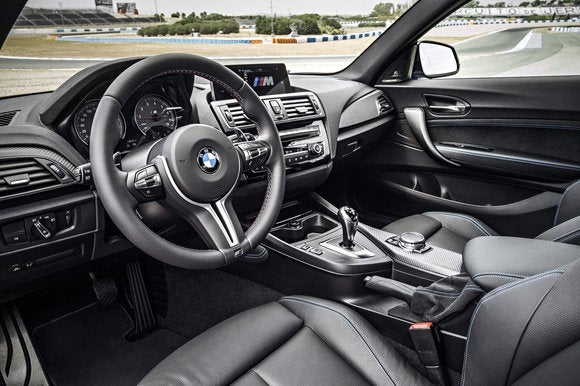 Stepping inside the M2, I feel immediately at home, cocooned in that same low-slung, well-bolstered seating position of the E36 and E46 M3s I've owned in the past. I place the car in its Sport mode, blip the throttle, and hear the sweet thwat and rumble of BMW's soundtrack-optimized exhaust.
The quad-tipped horn section should be just throaty and loud enough to dissuade you from aftermarket exhaust options, and when you let off the gas, you hear the crackle and pop of backfire—a sound I would have killed for in earlier M3s. Sure, some of the exhaust noise is routed into the cabin via sonic chicanery, but only the most orthodox purists will object to BMW's cheat.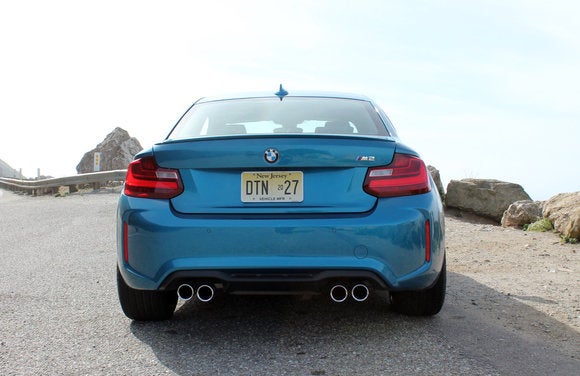 For the canyon drive, BMW put me in the M2's six-speed manual version. The linkage is tight and precise, if just a tiny bit long of throw. The clutch is light and has a relatively high engagement point, but I warm to it quickly. Pedal placement is absolutely perfect for heel-toe downshifts, but you'll never need to worry about that: The manual tranny executes its own throttle blips on downshifts, keeping the M2 drama-free when cycling down gears.
Linear and flat to the 7000rpm redline
Is the M2 fast? Yes, but you don't buy this car for life-changing revelations about speed and forward thrust. The six-speed manual version has an advertised 0-60 time of 4.5 seconds, and it feels that fast—in a very linear, somewhat coldly efficient way.
In the M2, BMW's 3-liter inline six employs a single turbo with what the company calls M TwinPower Turbo technology. You'll notice the slightest hint of turbo lag only if you look for it, and the car rockets forward without hesitation as you reach the 7000rpm redline (and illegal highway speeds) very, very quickly. But if you're looking for a high-torque kick in the ass—a sudden thrust of forward momentum deep in the rev range—you'll need to buy a naturally aspirated M from a bygone era.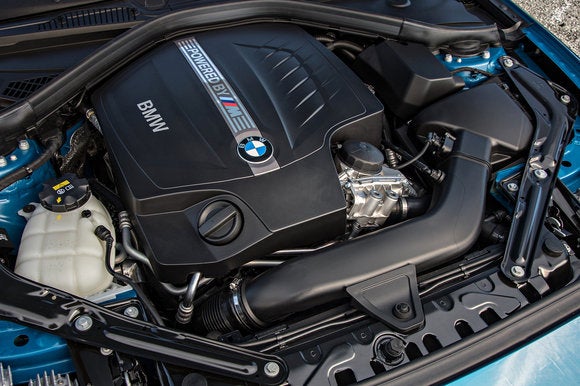 Even in Sport mode, ride quality on less-than-perfect pavement is civilized (at least if your anatomy is performance-calibrated; I can't help you if you're only attuned to luxury sedans). Indeed, I could definitely see myself spending three-plus hours in the M2, never wanting for a cushier ride. Yet when traffic gets out of the way, and open corners present themselves, that same comfortable chassis gets down to business.
The steering loads up with an appropriately meaty heaviness, and the suspension begs for more throttle. At some 3,300 pounds (sans any occupants), the M2 is about 115 pounds lighter than my old 2006 E46 M3, yet feels more agile than its weight (and 19-inch wheels) would suggest.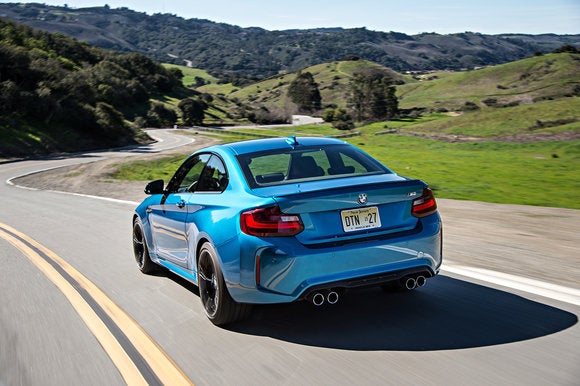 Apparently, lightweight aluminum chassis hardware borrowed from the current M4 make for some lively handling dividends. And just like any other M car, you simply can't overwhelm the M2's grip on public roads—unless you're an outright sociopath or just don't know how to drive.
Slip'em if you got'em
In the afternoon, my M2 experience segues to a lead-and-follow session at Laguna Seca. No, scratch that. It's better described as a chasing session, because one doesn't really "follow" Bill Auberlen during a lead-and-follow exercise. As the multi-time American Le Mans Series winner drove around Laguna Seca with probably just a single hand on the wheel, I over-drove the M2 around the track's 11 corners, trying to keep pace, and making more mistakes than I'm comfortable with.
But the beauty part? The M2 makes it fun. It makes it fan-bloody-freaking fun.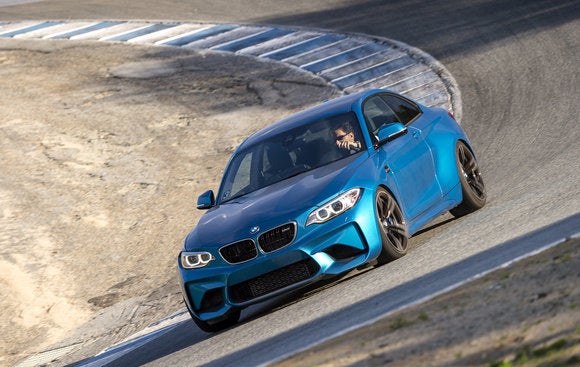 Here's the thing: BMW's M Dynamic Mode (which engages when you put the car in its Sport+ setting) is both a hero-maker and a dignity-saver. Coupled with the M2's Active M Differential, MDM lets you get into just enough rear-end slip to make stupid driving really exciting, but intervenes with computer logic right before the spin.
Or at least that was my experience. I frequently found myself losing multiple car lengths to Auberlen (maybe he had tossed aside the newspaper he was probably reading), and to catch up, I put down full throttle on corner exits way earlier than I would have in another car on another day. But this is when the M2 comes alive. The Dynamic Stability Control light flickers on the dashboard, and the car gets a bit slippy… but forward it scoots.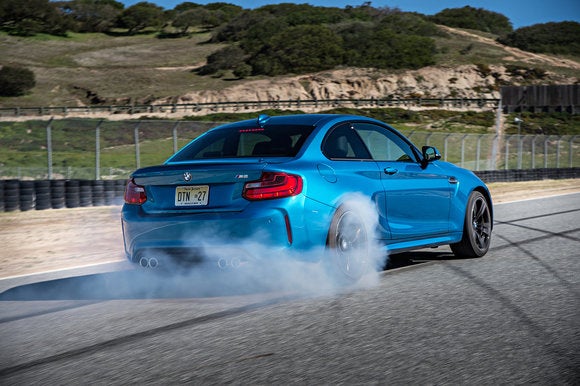 It's a cliche, but the M2 behaves like it wants to be driven hard. And for me, even as a tech journalist, this is a more interesting technology story than any autonomously driven hoo-ha. And you have to smile at BMW's marketing material, which promises "moderate, controlled drifts," while "active safety aids can still be relied on in critical situations." MDM is a nanny control I could really learn to love, especially because my 2005 Lotus Elise—perched on its toy-car wheelbase and completely devoid of any driving aids save ABS—thinks snap oversteer is a feature, not a bug.
Wanting for higher revs
All its hooligan tendencies aside, the M2 is still a scampy goer when driven with a smoother right foot. The steering lightens up nicely at speed, and the car changes direction with willing enthusiasm on Laguna's slower corners. Trail-braking turn 2 and dialing in a bit of rotation via a throttle lift is exactly what this car was designed for. Weight transfer is balanced, predictable, and outright beautiful. Indeed, if your current car is much more "slow-in, fast-out, point-and-shoot, then go," well, then, you're in a for a much more rewarding experience.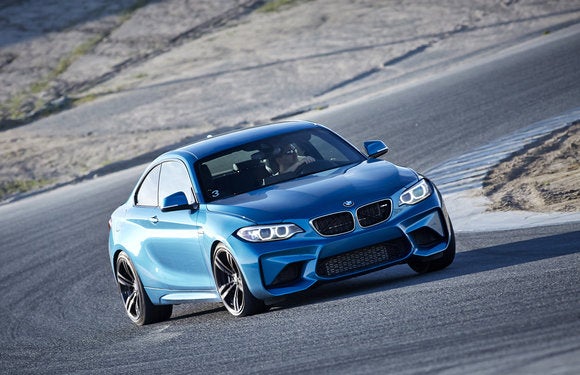 Do I have any gripes? Well, I felt a soft brake pedal. The car still shed speed, mind you, but I had to re-calibrate my braking approach. I'm not sure if BMW simply has a different philosophy on braking feel, or if the car's four-piston calipers were getting tired (I was in the last of the three groups to thrash the car that day).
I also found myself constantly hitting the 7000rpm rev limiter. Granted, I was still learning the car, and not paying complete attention to my gauges during my game of Chase the Professional Race Car Driver. Still, the Elise, my current track car, revs to 8500rpm, and I've found that winding an engine to the stratosphere pays its own special emotional dividends.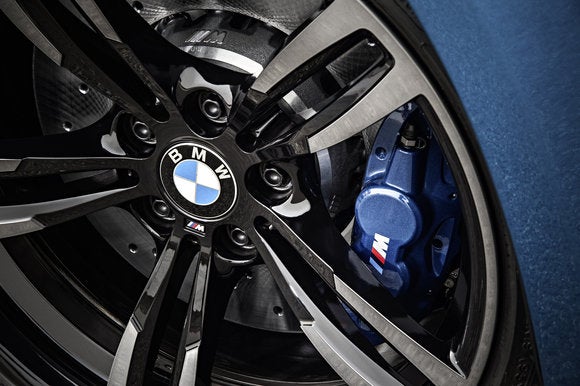 Regardless, however stoic it may be in outward emotion, the turboed inline six in the M2 is much, much more tractable on the track. And tied to BMW's M DCT seven-speed shifter, the M2's gear changes felt instantaneous, with perfect Formula 1-style throttle blips on downshifts.
A hedge against the future
Unlike the 1 Series M Coupe from 2011, we can expect BMW to make more than 740 cars for the North American market. In fact, according to one source, the M2 will have a production run from 2015 to 2020. This means you would have at least five years to gather up your funds, and invest in a true driver's car.
If you decide to purchase the M2, I suggest you only drive it to, on, and from race tracks. Beyond that, keep it garaged, and in the most pristine condition possible. It's a marvelous track toy, and 50 years from now, when the rest of America has abandoned automobiles for road-going gondolas, you'll still have one of history's funnest (and most flickable) cars.
["source -cncb"]