Home
>
Social Media
> Behind the scenes of the Raptors' trendy, Drake-quoting social media accounts
Behind the scenes of the Raptors' trendy, Drake-quoting social media accounts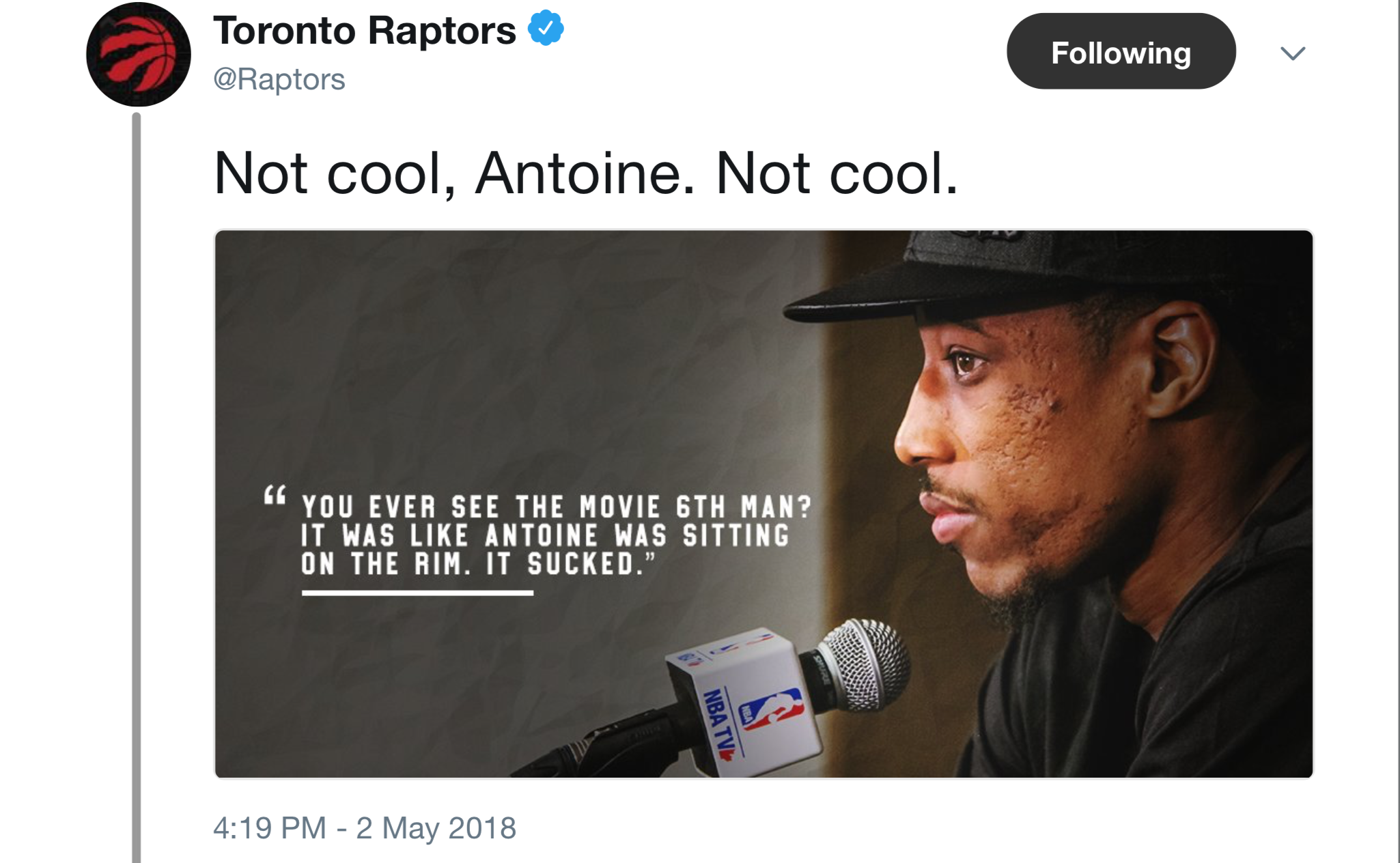 In this age of Instagram and Twitter, sometimes the chatter in the comments or threads are more entertaining than the posts themselves.
If you've been a supporter and follower of the Toronto Raptors social media channels for a while, you may have noticed a change in tone over the past year. The new attitude, vibe and particular brand of slang has people in the comments speculating about the author.
Well, meet Digital Communications Coordinator Soheil Jamshidi the voice of the Raptors' Twitter and Instagram accounts.
Born in Tehran, Iran, Jamshidi immigrated to Canada with his family when he was four years old.
"I didn't know a lick of English!" Jamshidi told Sportsnet.ca. "I actually learned English by watching Arthur, The Magic School Bus and The Simpsons. Before I went to kindergarten, I spent an entire year watching those shows and that's how I learned."
Counting on cartoons to communicate, Jamshidi didn't need as much help from the outside world to get an education in music — his dad, Shahrooz, handled that.
"My dad plays the piano and I guess he would always listen to music. Growing up he was always huge on The Eagles, Bee Gees, The Beatles. So growing up I would always listen to that with him."
Shahrooz covered the classics, but once Jamshidi attended Laurier University, where he double majored in psychology and biology, his musical tastes were broadened even more. I mean, rooming with six guys from the east end of Toronto will do that to you.
"We had listening parties when albums came out," he says, "so whenever a new album came out we would all get together after class, listen to the songs together, break it down. It's kind of nerdy but that's what we did."
That love for lyrics shows up a lot in the Raptors social media today. Current trends and references to popular songs are guided by two overarching themes.
First, it's an automatic tie in with, Drake, the Global Ambassador for the team who just happens to be one of the biggest artists in the world.
Second is the fact that Toronto's culture is intertwined with hip-hop and basketball.
But it's not just music that guides him. Jamshidi's instincts are sometimes based on his psychology background. Abnormal psychology, to be exact.
"Honestly, social, it's kind of a crazy place," he says. "People vent out their frustrations and their anger. So you really want to [have the correct] tone to your content."
Go on.
"Let's say we lost, right? You want to set a positive tone for the fans. You know what, we had a tough game today, but send a more positive message. Pointing them towards a more positive mood. Kind of like a psychiatrist, right?"
We're dealing with a social media shrink here folks!
The good news is that Jamshidi doesn't have to reach into his clinical bag of tricks too often. He relies on his "big bro" Matt Tierney, the Raptors Managing Editor of Team Content, to help guide him.
"It really helps that I have Matt with me, because he was in the role before. So, I will usually run it by him [if there are any concerns or questions]. He's been around, he's seen the ups and downs of the business so having him was an absolute blessing for me. Matt is essentially like an open textbook for me."
While Jamshidi is the younger member of the duo, Tierney's influences are based on the classics and film and television.
"I'm a little bit more of an older 90's hip hop kid with abstract movie and TV references that sometimes I intertwine when I used to run the accounts full-time," Tierney says.
"I'm very different from Soheil. He is that [social media target] demographic. He very much understands and relates to the culture, which is key. You got to be yourself. If you try to act like someone that you're not just to be cool, you'll come off fake. Authenticity is key."
 source:-sportsnet
About The Author