AT&T announced that it will be expanding its selection of rugged phones with two new models by Kyocera – the DuraForce XD and DuraXE, joining the Kyocera DuraForce, already up for offer.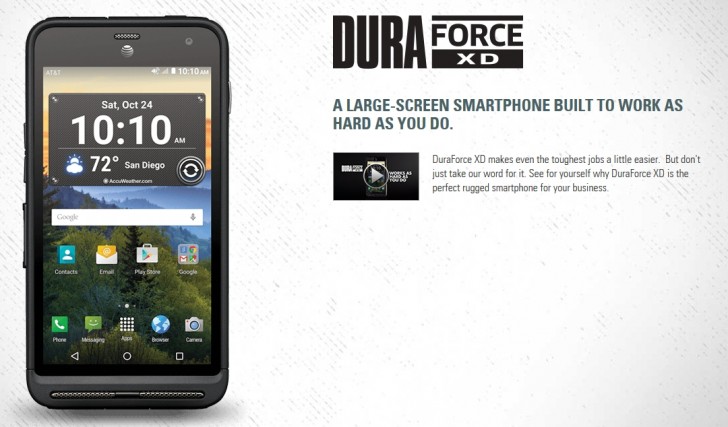 The DuraForce XD is currently the OEM's top of the line offer. It comes with a spacious 5.7-inch 1280×720 pixel impact-resistant IPS display and is powered by the admittedly-outdated Qualcomm Snapdragon 400 MSM8928 SoC. Memory is set at 2GB for RAM and 16GB of onboard storage, which is also on the low-end.
The XD 166.8×86.4×13.9mm body is extremely tough and is designed to cover a wide range of Military Standard 810G durability profiles (US MIL-STD-810G), as well as IP certification for dust and water (IPX8). It can easily withstand a 4 foot drop or a 1.8 meter dip into water for up to 30 minutes and its touchscreen is also optimized to work when wet and through a glove. The DuraForce XD boots Android 5.1, runs on a 3700 mAh battery and is LTE-enabled. It also has extra-loud dual front speakers and support for Enhanced Push-To-Talk.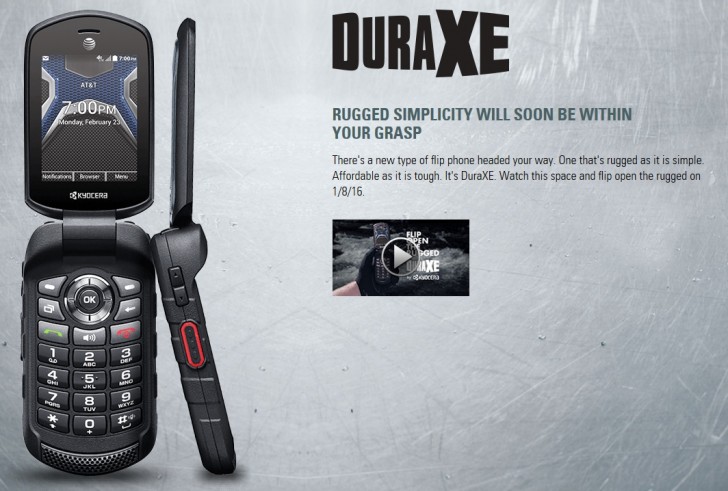 The other new addition is the Kyocera DuraXE. It is a feature phone with a classic clamshell design and two screens – the internal a 2.6-inch QVGA (240 x 320 pixels) TFT unit, while the external one is a 1.08-inch monochrome, high-contrast transflective LCD (102 x 90 pixels). It is powered by a MSM8909 Snapdragon 210 SOC with 1GB of RAM, 8GB of storage, plus an SD card slot and runs on a proprietary platform. Again, the flip phone is all about durability. Its 106.9 x 56.4 x 25.1 mm body is also built to cover Military Standard 810G protection for dust, shock, vibration, temperature extremes, blowing rain, low pressure, solar radiation, salt fog and humidity, along with IP68 certification as dustproof and waterproof for up to 30 minutes in up to six feet of water.
The DuraXE has a powerful front speaker and a dual-mic noise cancellation system to ensure proper communication in noisy environments.
Both devices will be available starting January 8. The Kyocera DuraForce XD will go for as low as $14.97/month with no down payment on a Next24 plan. The DuraXE can be purchased on a 20 payment installment plan for $13.50/month. Alternatively, $49.99 and a two-year wireless-service agreement can get you either phone.
["source -cncb"]