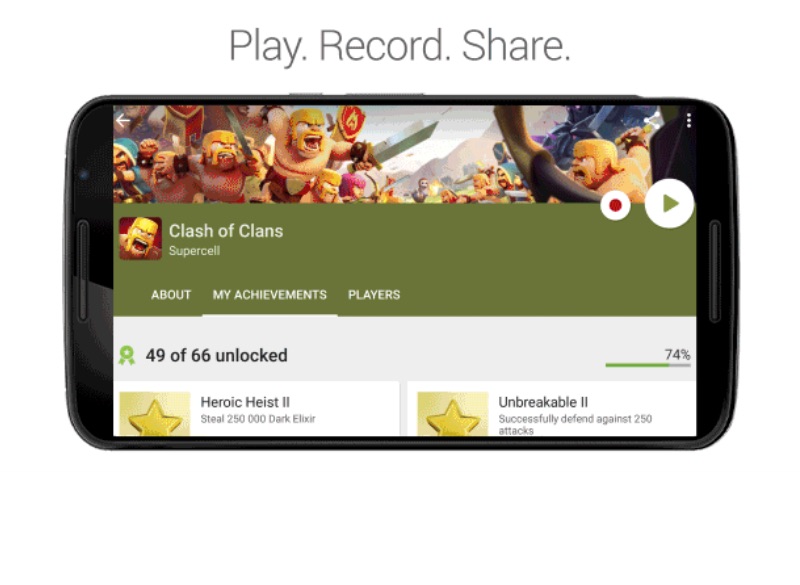 In an attempt to broaden the reach of mobile gameplay videos, Google on Wednesday updated theGoogle Play Games app to add video recording and published capabilities. It is now allowing anyone to record video alongside commentary on any Android game using Google Play Games, and then upload that footage to share with others. The roll out is gradual, so it may take some time to arrive on your handset. The company says that US and UK residents will get it first, though.
Users will be able to select the game they want to record, and can also add their video commentary using the device's front-facing camera and microphone. What's interesting about it is that users aren't live streaming the footage – instead, they record the gameplay, edit out the part they don't want the world to see, and upload it to YouTube using Google Play Games. The service supports 480p (standard), and 720p (HD) video resolutions.
"It's simple. In the Play Games app, select any game you want to play, then tap the record button. You can capture your gameplay in 720p or 480p, and choose to add video of yourself and commentary via your device's front facing camera and microphone. When you're done recording, you can quickly edit and upload your video to YouTube," the company wrote in a blog post.
The move could substantially increase the mobile game-related content on YouTube, which can also be enjoyed on YouTube Gaming, the game-centric platform and app the company launched in August. The app allows users to broadcast their gameplay too, though baking the feature right into Game Play Games makes it much more convenient for users. The company, however, still has a long way to go if it wants to match up Twitch's stature.
["source-gadgets"]