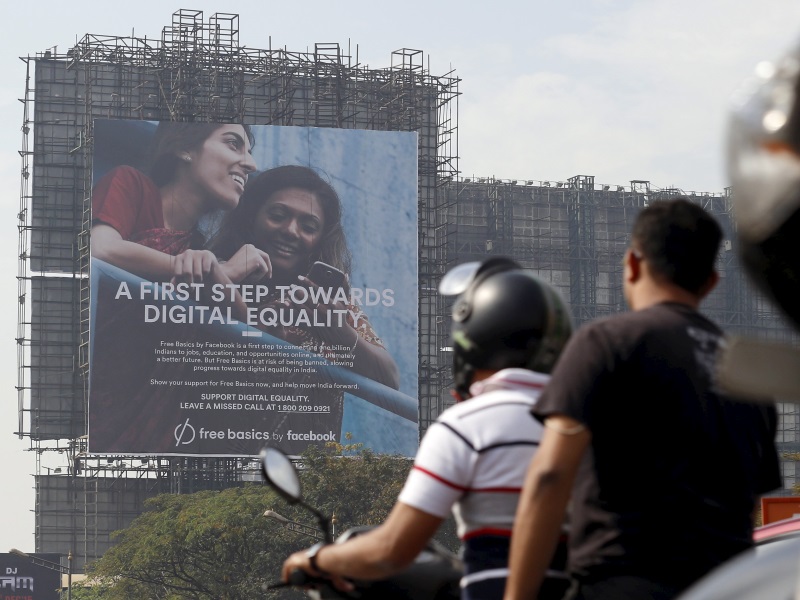 Facebook's aggressive Free Basics campaign backfired Thursday with the telecom regulator Trai asking respondents to its 'Net Neutrality' consultation paper to comment on specific issues rather than following a template provided by the social media giant.
Trai, which yesterday extended the deadline for submission of comments till January 7 amid an intensified campaign for and against Free Basics, said a large percentage of the record number of 18.27 lakh responses have been only about supporting the specific Facebook product without answering the larger issue of 'differential pricing' concerning Net Neutrality.
Free Basics, which Facebook is promoting with double-page newspaper advertisements for days as also through TV, billboards and online forums, is being seen in many quarters as being against the basic principles of Net Neutrality.
(Also see:  Free Basics vs. Free Internet: Your Guide to the Raging Net Neutrality Debate)
Trai, which has already ordered Free Basics to be put on hold in India, is now likely to finalise views on the issue of Net Neutrality by January-end.
The Telecom Regulatory Authority of India (Trai) Chairman R S Sharma said that a record 18.27 lakh responses have been received so far, of which a large percentage are about supporting a specific product called Free Basics.
Indicating that the whole consultation process could have been hijacked, Sharma said: "It is like we have asked Question X and they have given answer to the Question Y."
He said the authority has received 8.9 lakh responses supporting Free Basics where the respondents have just given their mobile number whereas 5.44 lakh comments are received through Facebook mail.
"… so about 14.34 lakh are such comments. Now the problem for this is that we had asked for response to the specific question of differential pricing… instead we have got responses on supporting Free Basics. Now how supporting Free Basics help in answering the questions… it has become difficult for us to arrive at," Sharma said.
He further said one approach that could have been taken is to just ignore these responses but as people have taken time out to respond, therefore ignoring the comments is not fair.
"… that was one of the reasons why we extended the deadline because we thought just ignoring this will not be appropriate because this is the record number of responses which we have got," he said.
Sharma said the authority has decided that those places where they have the email ids of these template responses, Trai will respond back to them asking to answer the questions raised in the paper along with their justifications.
He, however, did not elaborate if the people did not reply to Trai, the comments on Free Basics would be termed invalid.
"Consultation by Trai are not opinion polls, we are not asking if the answer is yes or no because that does not help us. We are asking why you think it is yes or no because that helps us in formulating the policy or guidelines. To all those whom we can approach, we will try to reach them," Sharma said.
The regulator has received 3.81 lakh comments from people claiming supporters of net neutrality.
Sharma said although these comments are also in a template form but the template answers all the questions with minor variations so there is no need to write back to them.
Savetheinternet.in team said: "We welcome Trai's decision to give the supporters of Free Basics an opportunity to participate meaningfully in the consultation process by answering the questions posed by Trai. Those who support services like Airtel Zero and Free Basics can use the tool atwww.savetheinternet.in, write their own answers and send them to Trai."
Trai extended the last date for receiving comments on its paper on differential data pricing to January 7 and January 14 for counter comments.
The date has been extended at a time when social network Facebook has launched a massive campaign in support of its Free Basics service.
Although the paper by Trai does not mention or use the term net neutrality, it details the idea of zero-rating platforms that have stirred up a big debate on the issue across the country.
As per SavetheInternet forum, the net neutrality principle says that Internet service providers should not block or discriminate against any applications or content that rides over their networks.
The Internet.org project, which Facebook launched in India in association with Reliance Communications, was recently renamed as Free Basics and offers free access to a set of websites and services with the objective of introducing Internet.
Earlier this month, Trai had asked Reliance Communications to keep services of Facebook's free Internet platform, Free Basics, in abeyance, till the issue on differential pricing is sorted out.
"We have told one of the operators who had submitted its tariff plans and had asked the operator to put this particular product (Free Basics) in abayence… that operator has given us in writing that they have put their commercial launch of the product in abeyance," Sharma said.
["source-gadgets"]