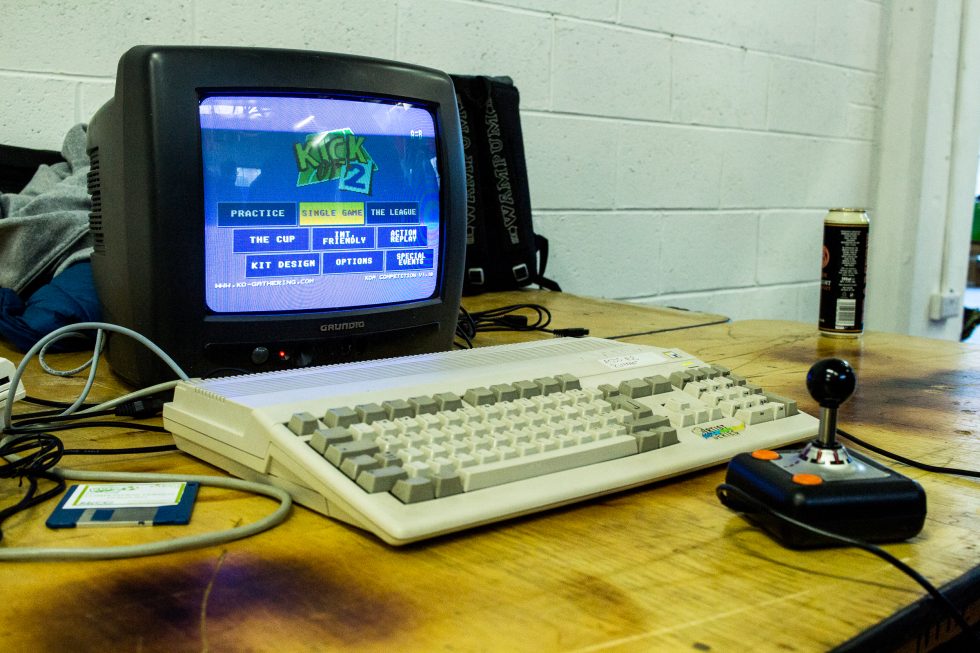 DUBLIN—Amidst rows of battered tables and chairs, some which look as though they've survived a few rough terms at a British state school, the world's best Kick Off 2 players are preparing to compete. The venue—nestled in the heart of Dublin and a stone's throw from the infamous Temple Bar district—is the former Williams and Woods chocolate factory, a grubby graffiti-covered building that's home to the city's burgeoning creative community.
Glamorous it is not, but there's a sense that this event belongs here. The gutted interior, with its peeling walls and windows that haven't been cleaned in years, give the building an artistic vibe, a feeling that what's created here might stand the test of time. This is not the kind of building that is concerned with trivial matters like fashions and trends—and I suspect that's exactly how the players like it.
After all, Kick Off 2 is hardly fashionable. Released in 1990 for the Amiga and Atari ST, the classic football game was a strong competitor to the Sensible Soccerseries. Both were played from a birds-eye view, and both used just a single button to pass, shoot, and tackle. Misdirection and razor-sharp movements, as opposed to any intimate knowledge of skill moves or speciality shots, were the key to success.
And yet, despite the game's age and simplicity compared to modern counterparts like FIFA and Pro Evolution Soccer, every year the world's best players gather to compete in the Kick Off 2 World Cup. The first was held in 2001, hosted at the Dartford, England offices of Anco, the now-defunct publisher that released the game back in 1990. It was organised by the Kick Off Association (KOA), a collective of elite players and enthusiastic fans that continue to run the annual tournament.
"This is the first year I've actually competed, but I've been a member of the Kick Off Association for 15 years. It's a new experience for me," smiles Pedro Quaresma, a Dublin-based Portuguese who is a key member of the KOA's organising committee.

"In terms of the general organisation I was part of the very first [World Cup]," Pedro continues. "But local players take care of the regional logistics, so in England the English players take care of it. The 2002 event in Athens was taken care of by Greek players. This is the first event we've had in Ireland, so it's the first time for me organising it so directly."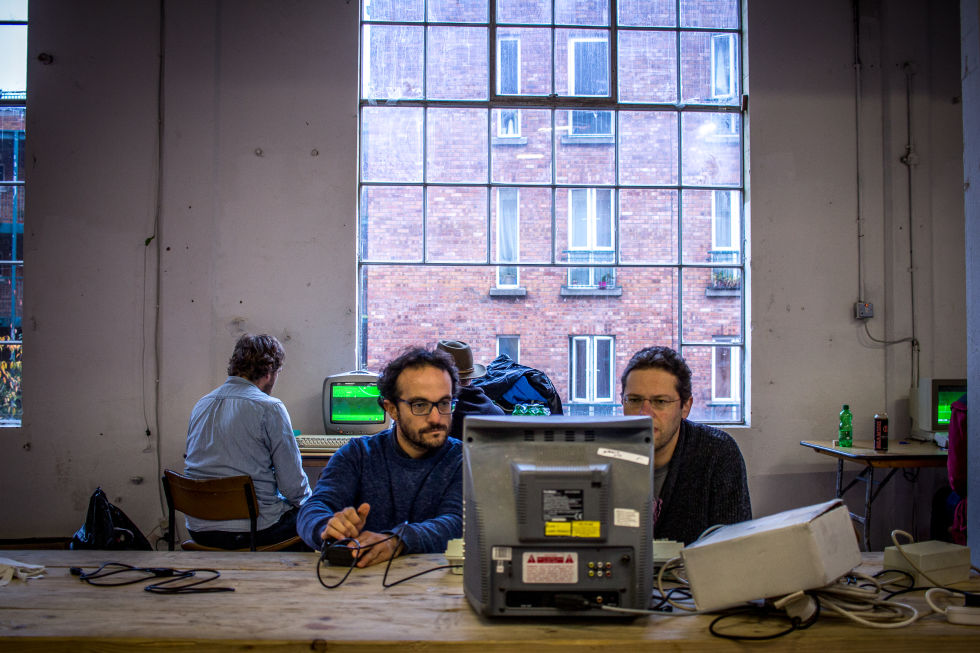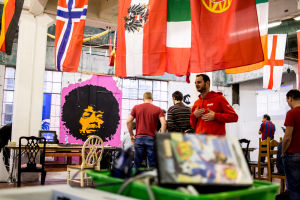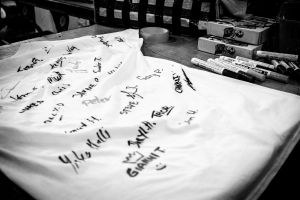 Dublin, Pedro explains, had to earn the right to host the 2015 World Cup, much like how countries bid for the real thing.
"Each year bids are placed for different locations to be the host and the community votes on which place is the most appropriate for everyone. Basically, when we prepare a bid we first suggest a date for the tournament and a venue within the area we represent—in this case Dublin. Overall plans like hotels, the final competition format, and stuff like that are then put forward. Other people from other places will do the same. This year we had to beat a bid from Sweden, which was also a strong candidate."
Previous locations have included Rome, Milan, Copenhagen, Cologne, and the aforementioned Athens. These events have taken place in everything from town halls and conference rooms to hotels and barns. The tournament is a far cry from the stadiums, energy drink sponsorships, and throngs of cosplayers typically associated with modern e-sports, which is dominated by the likes of StarCraft II,DoTA 2, and League of Legends. In the world of Kick Off 2, every individual, as opposed to the sole elite competitor, is considered an essential cog in the machine.
Anyone is eligible to play, so long as they're prepared to pay the €50 (£35 or ~$52.50) entrance fee and cover their own expenses for the duration of the trip. Depending on your background, that may or may not be a significant amount of money, but for the players and organisers of the tournament, it's a small price to pay.
There aren't many KOA members based in Ireland, which forced Pedro to "go ballistic" on his credit card in order to secure enough Amiga 500s and CRT televisions to run the game. The result is a charming fusion of grey and beige, some consoles and screens considerably older and more war torn than others.
Joystick junkies
Enlarge / Remember when all you needed was one button?
John Robertson
That isn't to say that competitors just rock up at the World Cup empty-handed and start playing, though.
"I have an Arcade Turbo, which is a really good joystick and very similar to what was used in arcades back in the day," explains Norwegian Thor Skaug. He's currently a resident of Seattle, Washington, meaning that he has travelled a long way, presumably at considerable cost, to be here. It's only his second time competing, but he talks like a seasoned pro.
"Different joysticks allow for different kinds of play," he says. Thor's calm demeanour turns progressively more animated at talk of button firmness and stick stiffness. "My stick allows you really good control on the ball so you can perform good dribbles, whereas some of the others have much faster joysticks that allow them to do some really quick movements… that's really good if you've got the ball in the opposing team's penalty area, for example. It can catch you off guard. A lot of us modify the original design, though, to make them faster."
A player's preferred stick design comes down to their style of play—and there are many styles of play. The wide spread of tactics is one of the reasons that this competition, and Kick Off 2 in general, has managed to sustain a dedicated audience over two decades. Ask any of the competitors and they'll tell you the same thing: modern football games are formulaic by comparison.
"It's one of the most interesting things. The game is 25-years-old, and the World Cup has been going since 2001, but we still see new players joining us that bring a new style with them," says Oliver Stender, a German player from Dusseldorf that has missed just one World Cup since his inaugural appearance at Cologne 2005. "Even though we've played so much and we think we've seen everything you could possibly see in the game, there are players that bring something that takes things beyond that level."
"If you don't know the game, and you just look at the simple graphics, you wouldn't expect it have this sort of depth," Stender continues. "It still offers new situations, new goals that haven't been seen before. To us, Kick Off 2 is the best game ever created for that reason. New games like FIFA have spectacular graphics, but the gameplay becomes quite boring after not too much playing time."
Thor echoes the sentiment: "I think the cool thing about this game, which is probably why we're still playing it 25 years later, is that it gives you a lot of freedom to do a lot of different things. You play FIFA and whatever nowadays and they're just full of complicated moves that have been pre-programmed, compared to something like this which is very basic in its controls but that allows you to go very deep in how you decide to play."
Enlarge / Like any competition, there are winners and there are losers.
John Robertson
Enlarge / To the winner goes the spoils.
John Robertson
While there are different formations to choose from, including examples familiar to football fans such as 5-3-2 and 4-4-2, to the less common 9-0-1 (dubbed "the lockout"), the real differentiator between players is how the formations are interpreted. Prior to playing against a specific opponent, it pays to scout them out and watch their early matches to try and pick up on any habits they might have. Thor refers to these habits as "routines," with different players relying on different routines to score.
The Italian four-time champion Gianni T, for instance, opts to look for the "killer pass." (Again, that's a Thor term.) Fabio Fichera, also Italian, plays great defence. According to Thor, this is "the most unconventional style of play." When you see the results, you begin to understand why opting for defence might be seen as eccentric. The initial group phase of this year's tournament saw scores of 17-1, 13-0, and 9-3. Fabio, marvellous defence and all, ended top of his group having scored 53 goals, conceding 15, in just 7 games.
Past the group stage with only the best players remaining, the scores even themselves out—but only in the sense that both sides score an incredible number. Stender, my friend from Dusseldorf, was knocked out in the semi-final after the two-legged tie ended 13-11 in favour of eventual champion Andy Gregoris of England.
For the record, Andy beat Gianni 'Killer Pass' T 17-12 on aggregate to take the trophy back to Britain. Thor ended in seventh place.
Practice makes perfect
Becoming skilled enough to beat these world-class players is no easy feat. Considering the age of the game, the fact that few people own the required TV and console combo, and that fewer still are prepared to spend their time playing Kick Off 2 over FIFA or PES. Finding someone to practise with between tournaments can also be difficult—and the age bracket of potentially interested parties is narrowing each year.
"It's hard to attract younger players," laments Pedro. "For example, my 14 year-old son helps out here keeping track of scores and arranging the tables, and I've tried to get him into the game but his generation are really used to having lots of buttons to use in football games. It's really hard to get younger players into the habit of playing a game like this."
John Robertson
The championship setup.
Most of the competitors are in their 40s, some in their late 30s. Unsurprisingly, these people have jobs, families, and other commitments that fill their days. Finding practise time and worthy opponents is difficult, although some have found ways to incorporate Kick Off 2 into their daily routines.
"I've got a really advantageous position, actually, as I'm able to play at work," grins Stender. "I work for an Internet provider in Dusseldorf and there we have a workshop where we prepare all of our equipment, within that we have an Amiga with Kick Off 2. Other companies might have table football or something, but we have an Amiga. We play there on our lunch break or after the work day is finished. Within the week I'm able to practise almost every day, so long as work commitments allow."
Thor is not as lucky.
"I live in Seattle and nobody there is going to get an Amiga, pick up a 25 year-old football game, and practise enough to get good at it. That means practising is difficult for me as I need to play against the computer, which just isn't the same as going against a real person. You get to practise finishing goals, but everything else you can't really practise. I showed up here with a very good childhood friend a couple of days early and we sat in the hotel room practising for two days before the tournament started to sharpen up our skills."
That isn't to say Thor is lacking in overall experience. His quality practise time is severely limited, but his competitive Kick Off 2 streak stretches back to the mid-1990s. A few years after the game was released, Thor got into an argument with fellow Norwegian Christopher Alan Durrans as to who was the better player. As a result, the two started to record the outcomes of their matches.
"By the time I moved to the US in 2001, we'd played something like 4000 games against each other," Thor explains. "Back then I came out on top by roughly 1000 games, but he beat me in this tournament."
Durrans finished fourth overall, losing out to Gianni in the semi-final. Durrans was then bested by Stender, 6-5, in the bronze medal match.
["source-arstechnica"]