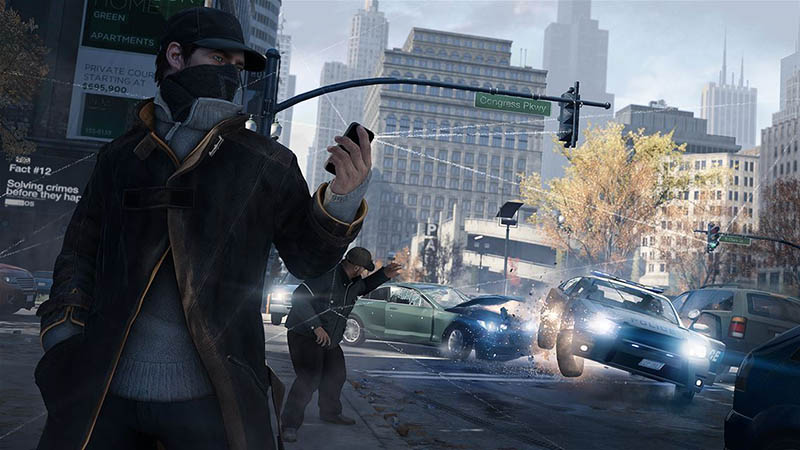 It seems the modding community of Grand Theft Auto V keeps outdoing itself again and again. A new mod out of Brazil that was released on Saturday has brought quite a few elements of Ubisoft's 2014 third-person open-world game Watch Dogs to Rockstar's own open world adventure.
From bringing Earth's largest mammal – the blue whale – to the city of Los Santos as a non-parachuting skydiver to the arrival of a Reaper vessel in GTA V's skies straight from Mass Effect, the latest game from Scotland-based developers has seen all sorts of user-based changes since its arrival on Windows PCs in April last year.
The newest Watch Dogs-inspired mod will allow you to hack traffic lights and ATMs, and watch as cars rush headlong into each other or people scramble for money. You can also take out street lights, mobile phones and fire hydrants among other things. You can even cause a blackout across Los Santos' expensive neighbourhoods, open car doors and cause the engine to explode.
If you're looking to cause the greatest amount of chaos, the mod also offers the ability to derail fast-moving trains or bring down helicopters you catch flying over you. And in what is a departure from standard GTA V fare, the Los Santos police behave differently in reacting to violent events they haven't witnessed.
Instead of magically knowing the coordinates and clothes of the person causing the mayhem, someone in the vicinity must report you to the authorities just like in Watch Dogs' Chicago. If you manage to block their call attempt, you could simply walk away after what may be a triple homicide on the sidewalk.
A new Watch Dogs game, set in San Francisco, is rumoured to launch later this year. Until then, have fun with Aiden Pearce in Los Santos.
What do you make of this new GTA V mod? Tweet to us @Gadgets_360 with #WD_GTAV or let us know your thoughts in the comments below.
["source-gadgets"]