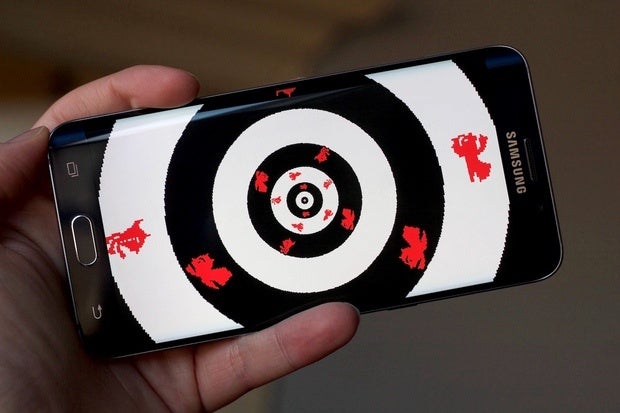 amsung and LG will debut their new phones by the end of the weekend, but if you need some fresh apps and games for your current Android device, look no further. Our latest Five to Try entry is led by Everalbum, a popular cloud-based tool for storing and presenting your digital photos and videos, and it's joined by MyShake, which turns your phone into an on-the-go earthquake detector.
If it's games you're after, Circa Infinity is a standout this week, delivering strange and exciting circular platform challenges, while Dub Dash is a pulse-pounding rhythm affair. And if you don't already have enough of the Kardashian family in your life, lo and behold, Glu's Kendall & Kylie is here to save the day. Grab some fresh apps and have a little phone-based fun this weekend.
Everalbum
fivetotry feb19 everalbum
Everalbum automatically backs up your media to the cloud—and then helps you clear the local versions to save space.
Got a lot of photos and videos on your phone? Better yet, got a bunch of photos and videos all over the place? Everalbum might be able to help. After topping the charts on iOS, it's now available on Android to not only back up and curate your phone footage, but also centralize and store images you might have hanging around in other services and cloud receptacles.
Like Google Photos, Everalbum provides unlimited free storage for high-res versions of photos, and it can automatically back up mobile images and videos and tell you how much storage you'll save by deleting the local versions. Once in the cloud, they're easily accessible through the app, which lets you create albums and share with friends. You'll need to pay $10/month to store full-resolution photos and unlimited HD videos, but most users should get a lot of mileage out of the free, basic service.
Circa Infinity
fivetotry feb19 circainfinity
You'll leap into circle after circle, all while dodging the demonic creepers inside.
Do traditional 2D platform games leave you feeling… well, flat? Maybe Circa Infinity ($3) is just the kind of genre spin you need, as it takes running and jumping to new places. This minimal indie game takes place entirely within and along the outside of spinning circles, as you jump from one to the next while avoiding the little monsters that roam the paths.
Newsletter
Get the latest news, trends, apps, and tips for your Android phone.
Get our Greenbot download newsletter
Enter your email address
Go
Things get both surreal and very difficult before long as new enemies and patterns emerge, forcing you think fast and respond even faster. You'll perish often, but Circa Infinity is such a uniquely mesmerizing experience that it compels you to keep going to master its tricks and overcome its myriad twists.
Dub Dash
fivetotry feb19 dubdash
If you think this looks wild, you should see Dub Dash in motion.
Lost in Harmony, an Android music game released earlier this month, has its tense moments, but is often calm and pleasing. Dub Dash is something else entirely: This rhythm game prods you within moments and rarely lets up, challenging you to guide a rolling wheel through pulsing stages filled with beat-match obstacles. And if you blow it, you'll feel the pain.
Popular on Greenbot
lg g3 tips
15 simple tips and tricks to get more from your LG G3
galaxy s5 tips primary
Get the most from your Samsung Galaxy S5 with these 16 tips and tricks
google now voice primary
A list of all the Google Now voice commands
Evading hazards is a matter of tapping or holding the right or left side of the screen at first, but tricky patterns and the dazzling, strobe-like presentation make it tough to prepare for what's ahead. Dub Dash is also relentless, forcing you to restart an entire stage with a single mistake (unless you have extra hearts stored up), but rhythm game die-hards should love the challenge. It's a unique and pleasing take on the genre, if you're up to the task.
MyShake
fivetotry feb19 myshake
Do your part to help advance earthquake detection with MyShake.
Earthquakes are an ever-present threat in some areas, and if your phone could help save lives someday, wouldn't you want it to? MyShake is a new app from the UC Berkeley Seismological Laboratory, and it uses the motion sensors in your phone to detect the very specific vibrational patterns that indicate a coming quake. In other words, running with your phone in your pocket probably won't trigger the warning.
MyShake runs in the background and seemingly uses minimal resources, and when the right kind of vibrations are detected, an alert is sent to the UC Berkeley team. For now, you're essentially just helping drive the research: With more than 100,000 installs already, they're creating a blanket network of sensors that could help detect future quakes faster and get warnings out to people in time to make more of a difference.
Kendall & Kylie
fivetotry feb19 kendallkylie
Kendall & Kylie seems to find a sweet spot in both embracing and mocking celebrity-obsessed culture.
Can't get enough of the Kardashians? Looking for new ways to keep up? Luckily for you, Glu Games didn't stop with Kim Kardashian: Hollywood, as the new Kendall & Kylie lets you create your own avatar and interact with the youngest Kardashian sisters in an array of California hotspots.
It's not dramatically different from Kim's game, despite the switch to portrait orientation: You'll navigate dialogue and do a lot of busy work in the form of tapping icons and collecting currency, all in the name of trying to go viral and establish yourself in the fashion world. Kendall & Kylie is unsurprisingly vapid and filled with freemium elements, offering to speed up delays with real money—but it's still sure to please a lot of people, if the earlier game's success is any indication.
["source -cncb"]