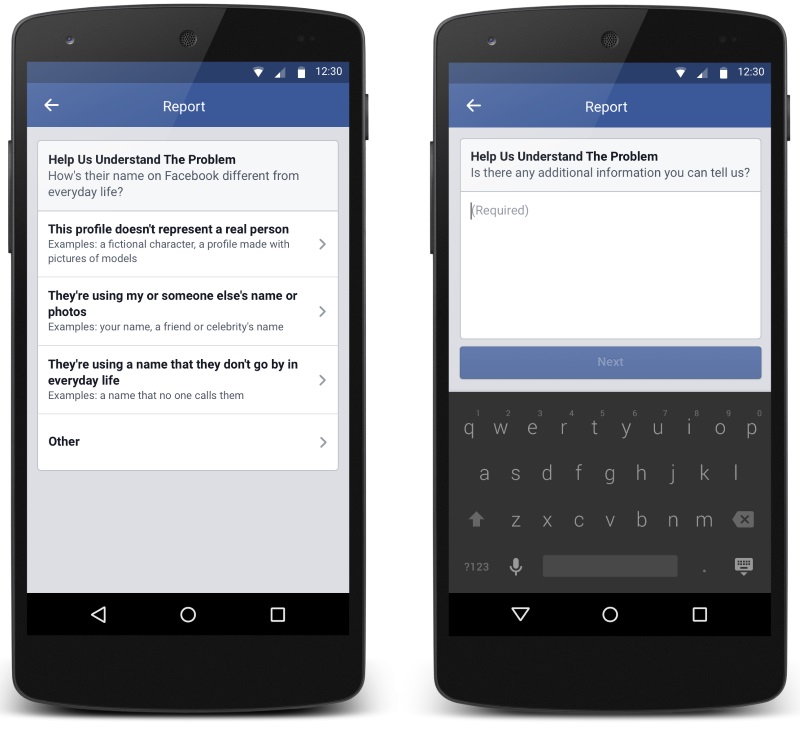 Facebook has changed a lot since it first went online, but at least one thing has remained pretty much immovable: The site requires users to use their "real" names, and not a pseudonym, on the social network.
The "real name" policy is designed to encourage accountability, but it's come under fire in recent years from users who feel Facebook hasn't done nearly enough to address its biggest unintended consequences. On Tuesday, Facebook announced that it was testing two changes to its "real" name reporting and verification process, designed to make sure that Facebook's name policy "works for everyone, especially for communities who are marginalized or face discrimination."
Transgender, drag and Native American Facebook users are among those who have campaigned forFacebook to change or drop its "real" name policy, arguing that it has unfairly singled out many members of their communities for unwarranted scrutiny, sometimes preventing them from using the site at all with their preferred names. Although Facebook has said its policy doesn't require users to identify by their legal name – only the name by which most people would know them – Facebook's verification system is often difficult to navigate for users whose names don't appear on some form of legal identification.
Facebook's changes, announced in a blog post on Tuesday, will require reporters to provide more context before flagging an account, and will allow anyone asked to verify their name to give Facebook more specific information about their circumstances. Facebook said it made the changes after "many conversations with community leaders and safety organizations around the world."
Facebook employees are responsible for verifying the names on user accounts, but that verification process is often the result of a user-reported alleged violation.
Facebook's Chris Cox apologized to transgender and drag users for the "hardship that we've put you through" last year after the site stepped up enforcement of its real names, after one user reported a large number of accounts as "fake." Cox defended the policy itself, but promised that users would see improvements in how Facebook handles reports of fake names in the future. Facebook also recently softened the language it uses to describe its policy, which it now refers to as an "authentic" name policy.
According to the Tuesday announcement, those going through the verification process in the US will now be presented with the option to explain the reason why they don't use a legal name on the site. Those reasons include being "affected by abuse, stalking or bullying," identifying as LGBT, being a member of an ethnic minority, and "Other." The prompt notes that Facebook "may still ask for some kind of ID to confirm your name" even after filling out that form.
As for those seeking to report a fake account, the process is now slightly more complicated. While users were once able to simply report a name as fake, Facebook said, they'll now have to at least give a reason for why they suspect the account is violating Facebook's policy.
Facebook said that it has loosened its identification requirements to allow users to use different forms of ID to verify their names over the past year, and now allows users to stay on the site as normal for up to a week while they verify their accounts.
The changes were first alluded to in late October, Buzzfeed reported, in response to an open letter from several groups opposed to Facebook's real name policy. Facebook's response from its VP of Growth Alex Schultz said that the company planned to start testing some improvements to the name reporting system in December.
["source-gadgets"]