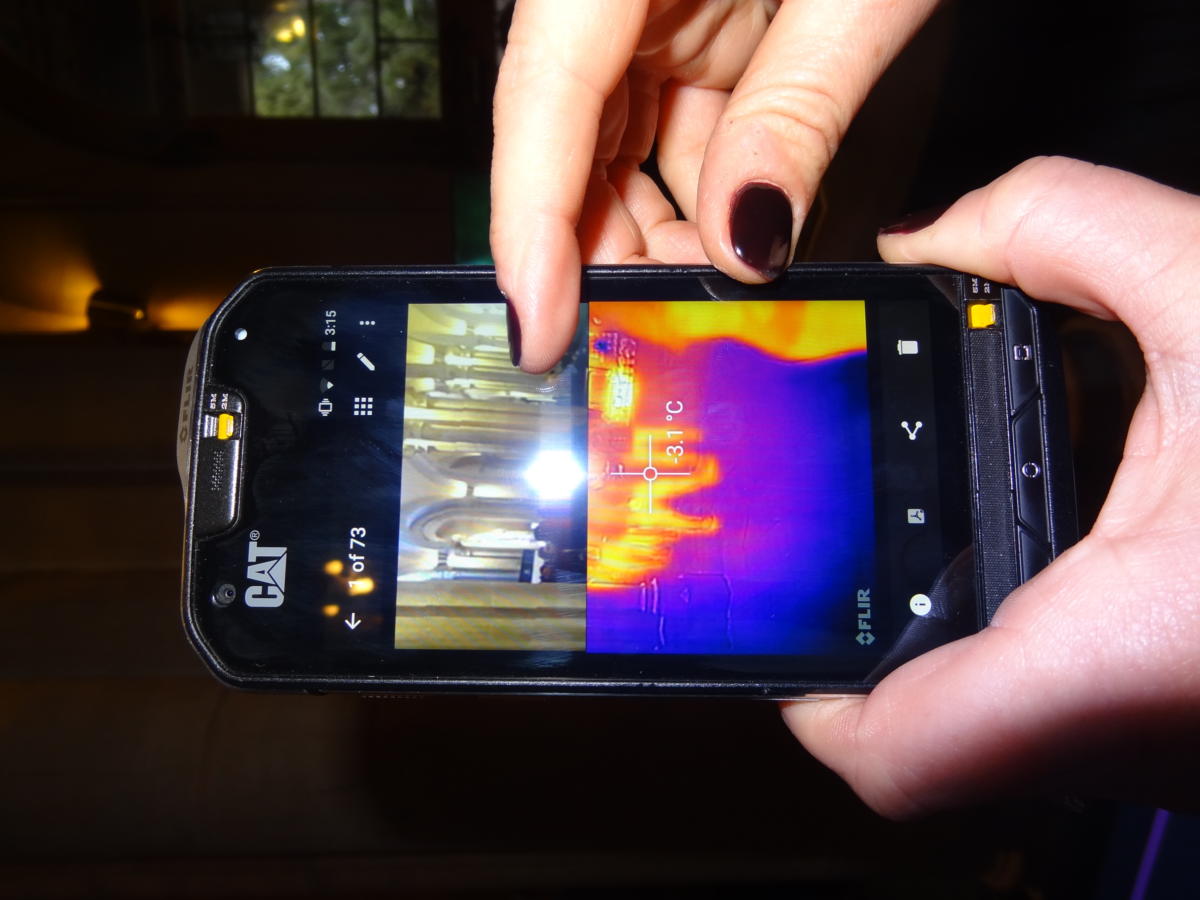 It can see through smoke, it can dive underwater, and it can run Android Marshmallow.

The CAT S60 is a 4G LTE smartphone with a 3,800 mAh battery that owners of thinner and lighter phones might kill for. With its ruggedized case, designed to survive a drop onto concrete from head height, it sounds like the special forces of smartphones.

The phone's two stand-out features, though, are its water resistance and its thermal camera.

There are plenty of smartphones with IP68 ratings that can take a dip in a pool and live to tell the tale, but the CAT S60 is fully submersible to 5 meters—as long as you remember to batten down the hatches first. It has two mechanical shutters to cover the earpiece and microphone, and if you forget to flip those closed first, water's going to find its way in once you go below 2 meters. Otherwise, you're good for up to an hour under water.

There's one other thing worth keeping closed: the trapdoor on the back covering slots for dual SIM cards and a microSD card.

"We put it on the back, not the side, because otherwise it's a structural weakness," said Tim Shepherd of Bullitt Group, the company that designs and manufactures CAT phonesunder license. Bullitt is unveiling the phone at Mobile World Congress in Barcelona this week. It also makes ruggedized phones for JCB, although those are feature phones, not smart phones.

The thermal camera module is made by FLIR, and uses the same Lepton image sensor as FLIR's add-on modules for iPhones and Android phones. It has a raw resolution of 80 by 60 infrared pixels, but with some clever processing of the image from the adjacent 13 megapixel visible light camera, this can be interpolated up to a 640-by-480-pixel thermal image. An app allows a readout of the approximate temperature with a tap on the screen.

"It's accurate to 2-3 degrees Fahrenheit," said FLIR's Bruce Cumming. "For home inspectors and insurance loss adjusters, it's a good enough technology," he said, but recommended that they get trained in basic thermography first.

The S60's other features include a 4.7-inch touch-screen display that can be used with wet fingers or gloves, a Qualcomm Snapdragon octa-core processor, and 3GB of RAM.

Bullit expects it to go on sale around June, priced about $599 (excluding sales tax) or €649 (including value-added tax) for an unlocked version.
["source -pcworld"]