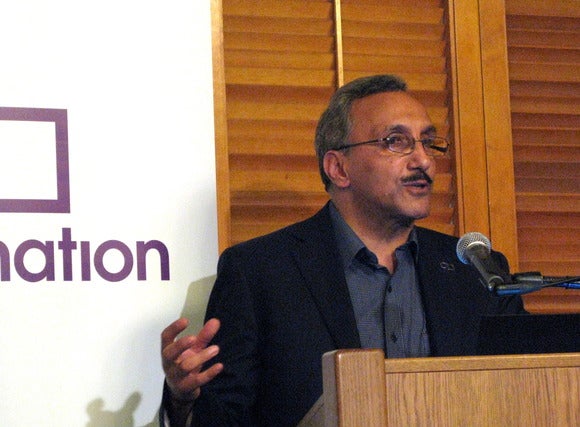 Imagination Technologies, the U.K. company that makes graphics chips for Apple'siPhones and iPads, is ditching its CEO and its strategy as it heads for its second consecutive year of losses.
The semiconductor design and licensing company plans to sell its loss-making digital audio business, Pure, which has dogged its results for years, but will invest more in its PowerVR graphics core designs, which Apple uses in its iPhones and iPads.
Board member Andrew Heath will serve as interim CEO while the company searches for a replacement for Sir Hossein Yassaie, who had run the company since 1998.
Imagination reported a £13 million (US$19 million) loss on revenue of £177 million in its last fiscal year, which ended April 30, 2015, compared to a small profit the previous year.
Things still looked bad when it reported results for the half year to Oct. 31, but the company forecast a better second half would pull it out of the red for the full year. That recovery never came, and now it expects to report a loss before interest and tax for its fiscal year to April 30, 2016, it said Monday.
Two things led to the shortfall, Imagination said. One was that it had not signed as many new licensing deals for its chip cores as it had expected; another was with existing licenses, where royalties from some key customers fell short of its previous expectations for the fourth quarter of 2015.
Apple, one of the company's largest customers, experienced something of a slowdown itself last year, with sales of latest iPhones flat, and revenue expected to dip this quarter.
The iPhone maker is not Imagination's only customer, though, and in addition to the PowerVR graphics core, the company also owns the rights to the compact, low-power MIPS processor design used as an alternative to ARM chips in cars, routers and Androidsmartphones.
["source -cncb"]